36 Hours Aboard the USS Ronald Reagan
(these pages have megabytes of pictures, so let them fully load before scrolling)
PART II
Early the following morning, we were allowed onto the bridge as all the ordinance had been stowed and the ship was back on relaxed status. We were some distance south of San Diego, expecting to arrive in port a few hours later in the day. Shown above is the rather simple Captain's chair. I was impressed by the lack of monitors and other equipment at this station.
Here we see the helm position. There are two "drivers" on the bridge that use these control screens to drive the ship. Rudder control, speed and a huge array of other functionality and system status are displayed on these touch screens. Very simple in display, but extremely complex in its system.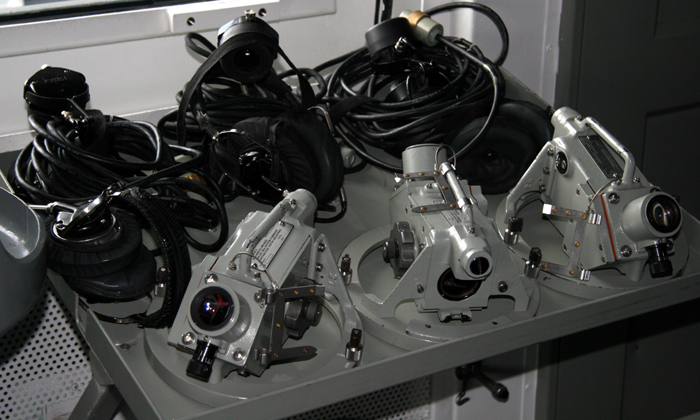 These are the devices used to sight the ship's position while it was alongside the supply ship. The comm. units are shown behind.
Here is one of the dozen or so control and display screens that are all over the bridge. This one shows heading, shaft speed and a variety of wind indicators.
And shown above is the main navigation screen. The ship's position and course are shown, as well as a variety of other information.
And despite all the very sophisticated computer and systems equipment on board, I was happy to see this piece of equipment at the center of the bridge. GPS is fine, but its comforting to know that there's no substitute for some good old bubble levels!!
Nope, they haven't computerized the boson's whistle. No mpeg or .wav files piped through the ship's com' system. They still use the same whistle as they have for centuries.
It was pretty foggy as we approached San Diego. We were allowed on deck to enjoy the trip into port. Here we see the "island" which is 20 stories high and is filled with more antennas and radars than I have ever seen before in a single place.
That's catapult 1 in the foreground with an Intruder jet in the background. During our trip, they did not conduct any air operations save those with the choppers during the transfer of ordinance.
Coming into port, the ship is on alert with its gun positions manned and ready. This degree of readiness is due to the fact that terrorists have attempted attacks against our ships while in port. It was not a good feeling to know that while in their home ports, our ships are more vulnerable to attack than while at sea.
Here are the two tugs that followed us while we were entering the port. These tugs can move equally well in all directions.
Here we see a rope being shot to shore. This gun had a range of about 125 yards. Now this is something most hams would want in their antenna arsenal. Sure beats using a slingshot to get a wire up into a tree!
Almost secured at port, the ship's colors are prepared to be hoisted into place. A few moments later we were secured and our short, but glorious voyage, was over.